by Eileen Tarquinio
Recruiters are in the business of negotiating every day as they interact with clients and candidates. Ahead of the 2019 MRINetwork United Convention, we sat down with Chris Voss, a featured keynote speaker and one of the preeminent practitioners of negotiation skills in the world, to help recruiters hone their negotiating skills. Chris, who is also a former top FBI hostage negotiator and author of the book Never Split the Difference: Negotiating as if Your Life Depended on It, has developed a handbook of principles and techniques that are invaluable in the workplace and in every other realm of life. We had the opportunity to speak with him and get his take on using negotiation to give recruiters a competitive edge. 
MRINetwork: How does the process of negotiation work? 
Chris Voss: Never be so sure of what you want that you wouldn't take something better. Negotiation is a process of discovery. You begin by focusing on the other person and what they have to say to determine what they want. You want to arrive at an understanding of their feelings and what's behind those feelings. Once you recognize their perspective, you vocalize that recognition to validate their emotion and give it a name. 
MRINetwork: You see information gathering as the first step, but you don't always advocate asking questions. What's the best way to gather the information you need? 
Voss: Rather than asking a direct question, use a format such as, "It seems as though you have good reasons for…" Given this opening, most people will reveal much more about themselves and their situation. It's a validating and respectful approach. 
MRINetwork: You've said that when the pressure is on, if you don't rise to the occasion, you fall to your highest level of preparation. What goes into preparing properly for a negotiation?
Voss: Begin by defining the problem in a way that the other side agrees is the problem. Change their perspective by showing them another way to look at the situation. In your business, for example, I'm certain that often what clients tell you they want in a new hire isn't always what they really need. The job description is off and is not going to yield the desired candidates. It's your job to steer them in the right direction, which you can do because through your preparation and knowledge of the marketplace you know what's needed and how to fill that need.
MRINetwork: How does the discussion about money come into the negotiation process? 
Voss: Money is rarely what kills the deal. You have to discuss money in the context of the big picture. Let's say a candidate won't accept an offer that's less that 175K, but the employer's top limit is 150K. If you can honestly demonstrate that this position will help the candidate achieve higher life goals and ultimately increase their earning potential in their next career move, you can come away with a successful negotiation in which both sides feel they've been treated fairly. Find the sweet spot–if the employer pays too much, they'll never be satisfied with the candidate's performance; if they pay too little, they'll never get peak performance from a candidate who feels undervalued.
by Eileen Tarquinio
When your company is undergoing major change, it can be a tough transition for everyone, especially your organization's employees. After all, they may be wondering how the company's transformations will affect them, their roles, responsibilities, co-workers, leadership and other aspects of their lives in the coming months.
To help dispel any rumors and to ensure everyone is on the same page about your company's upcoming progress, it's crucial that you craft a compelling and honest narrative with your leadership team. As a result, you'll be in a strong position to address any employee issues or disagreements, while at the same time heightening your company's success for the upcoming months.
Marquis Parker, vice president of business services for MRINetwork, says it's important to always consider your employees first. "Change is never easy. Make sure you're making staff a top priority as you put together your change narrative," he says. "It's very likely their day-to-day work will be directly impacted by the business transformation, so you want to do everything possible to make the process as painless as possible."
What does a strong strategic narrative entail? According to Forbes contributor Chris Cancialosi, it involves several things. "A strategic narrative centers on a leader's ability to articulate a clear and compelling vision and strategy for the future of the organization," he writes. One can also be useful because it:
-Illustrates the change in a positive fashion
-Creates an environment for employees to give feedback
-Shows that a company values its key stakeholders
Here are three tips to guide you in crafting your own successful strategic narrative:
1. Gather input from the most important individuals at your company
To successfully craft a compelling and trustworthy change narrative for your company, the first thing you want to do is to collect as much information as possible, including input from "key stakeholders," according to Cancialosi. Patti Sanchez, who wrote an article for the Harvard Business Review and is the Chief Strategy Office of Duarte, agrees. "A transformation won't succeed without broad involvement," she writes.
To do this effectively, you'll need to tap your trusted advisors and members of your company's leadership team, to discuss and weigh the story in a truthful and supportive manner. "Try and get as much feedback as you can during this pivotal step in the process," says Parker. "It will help you craft an even stronger transformation narrative."
The result of brainstorming the narrative with the individuals who know your business best is that you will be able to present something that will ultimately benefit the transformation you're aiming to enact over the coming year.
2. Work closely with your team to draft a narrative that exudes empathy
After gathering this crucial input from the stakeholders, it's time to craft a narrative that speaks to the transformation your company is about to undergo and also illustrates empathy. In her HBR article, for example, Sanchez showcases just how important this quality is when presenting organizational change. "If you want to lead a successful transformation, communicating empathetically is critical," she writes.
However, this won't be easy. In fact, it's likely to be a time-intensive process because it also requires a strong vision of the different avenues though which you want to share your transformation. Some options include sending emails to employees, holding meetings to fill people in on the upcoming changes, working with public relations and media teams to share the information publicly, and other strategies.
Once you've figured out how to strategically share your change narrative in an empathetic way, you can meet with your leadership team (1) to discuss what must be included in the outline and (2) to ultimately agree upon what channels will serve as the foundation of your transformation communications.
3. Share the narrative with your employees in a confident, composed manner
You've spent weeks brainstorming and building out your strategic plan of action for sharing this change narrative, and now it's time to put the final touches on the communication plan. Once it's been edited and approved by key members of your team internally, it's finally time to share this information with your employees as well as any external partners.
During this period, it important that those on your leadership team act confidently when discussing information with others. For instance, a recently published article on Fast Company's websites states, "Change can breed unexpected developments, and leaders need to show composure to the team looking to them for guidance." As a result, you'll help others feel more comfortable about the upcoming transformations.
Another key part of the process: make sure that you allow those affected by these changes and transformations to share their feedback at this juncture (whether it's positive or negative). Parker agrees that you should keep open lines of communication with employees. "Always be accessible to your workers during these uncertain times," he says. "They'll thank you for your honesty and value transparency from the organization." You'll help keep your employees motivated, happy and excited to continue working for you, while also investing in the continued success of your company.
Ultimately, gathering input, crafting a narrative that illustrates continued commitment to employees and sharing information in a thoughtful manner will help your transformation process attain its goals.
by Eileen Tarquinio
Jul 05, 2019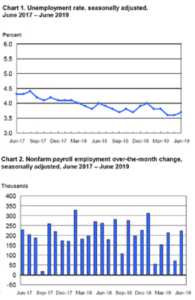 The June Employment Situation showed a large increase in nonfarm payroll employment to the tune of 224,000 new jobs, according to the U.S. Bureau of Labor Statistics. This comes off the heels of a growth reduction for May's figures which saw just 75,000 jobs added, which was the only month in 2019 (since February) to fall short of six-figure growth.
According to Bloomberg, U.S. hiring rebounded and topped all economists' estimates, "a sign of labor-market strength that may ease calls for a Federal Reserve interest-rate cut."
Notably, the number of additional jobs signified a huge boost when compared to Bloomberg's estimate, which was based on economists projections of 160,000 new jobs versus the 224,000 reported.
Interestingly, employment job growth has averaged 172,000  per month for 2019, according to the report, which is lower than the average monthly gain of 223,000 in 2018.
Reuters, however, reported that while job growth has rebounded from a weak May, "moderate wage gains and mounting evidence that the economy was slowing sharply could still encourage the Federal Reserve to cut interest rates this month."
On that note, the jobless rate ticked up slightly to 3.7%, which is slightly above the half-century low of 3.6%. Meanwhile, earnings increased 3.1% from a year earlier, which is slightly less than Bloomberg projected.
Additionally, the average wages paid to U.S. workers saw an increase of 6 cents to $27.90.
One industry that unsurprisingly saw significant job growth in June is professional and business services. As in previous months, the sector saw the largest number of jobs added in June (51,000). Notably, however, this was up from a much smaller employment change in May of only 24,000 positions added for the industry.
Others industries added a noteworthy amount of jobs throughout the month included the healthcare industry which saw an increase in 35,000 roles for the month. Transportation and warehousing also added 24,000 jobs and construction saw an upward trend of 21,000 newly added positions. Meanwhile, there were an additional 17,000 manufacturing jobs for the month.
Other major industries saw little notable employment growth including mining, wholesale trade, retail trade, information, financial activities, leisure and hospitality, and government.
Taking the report as a whole, news services came to different analyses of what this month's report could mean for the U.S. economy as a whole. Bloomberg, for instance, stated that the report could bolster U.S. President Donald Trump's ideas about the strength of the economy.
"The report may offer President Donald Trump another chance to boast that the world's largest economy is in the best shape ever," according to Bloomberg. However, this also comes as Trump has repeatedly called for Fed Chairman Jerome Powell to slash interest rates, which is coming "just as the 2020 campaign begins."
"It's a really, really strong report across the board," Torsten Slok, Deutsche Bank chief economist, said in an interview with Bloomberg Television. "If the Fed is thinking about making insurance cuts, you think about what they are insuring themselves against?"
According to MarketWatch, "Even though the economy has slowed, the strongest labor market in decades is likely to extend what's already the longest expansion on record. The U.S. has grown for 121 straight months."
Looking ahead, the news service notes that while there has been continued economic growth for the U.S., according to this report, simmering trade tensions between the U.S. and China "could hurt the economies of both countries and cause a global downturn. Businesses have complained for months that trade disputes have hampered their ability to plan and invest."
That said, just last week, the two countries agreed to table the pending tariffs and begin negotiations again.
Editorial Contact
Nysha King
Media Relations Lead
Office: 215.372.1384
Email: nysha.king@mrinetwork.com